Description
Online PMP Course
35 Contact Hours PMP Certification Training, 300+ Lectures, 750+ PMP Practice Questions, Sample PMP Certification Exam, PMP cheat sheets and more.
Globally recognized and guaranteed to advance your career, the PMP® certification training from Master of Project Academy has successfully certified more than 50,000+ students worldwide. Our hands-on training approach will enable you to understand the 5 Process groups and 10 knowledge areas as prescribed by PMI®. We guarantee you will walk away with all the preparation and confidence needed to conquer the exam and earn the PMP® certification in your first attempt.
Limited Time Offer
Master of Project Academy's online PMP course list price is  ₹47,470 for lifetime access. For a limited time, you can enroll in PMP course only for ₹977 for lifetime access. Save 98%
Master of Project Academy's Advantages
99.6% Pass Rate: Over 50,000 professionals enrolled from 180+ countries in Master of Project Academy courses. 99.6% of these professionals passed their certification exams in their first attempt.
35 Contact Hours: You will earn the 35 Contact Hours to be eligible to sit for PMP certification exam. When you completed our online course, you will be receiving certificate of completion.
30 Day Money Back Guarantee: Your satisfaction and success makes us happy. If you are not satisfied with our courses, we will provide a full refund in 30 days*. Less than 1% of our students asked for a refund so far.
24 Hours Support: Master of Project Academy instructors and support team answer all of your questions within 24 hours. You will feel like you enrolled in a classroom training!
Click here to see our course program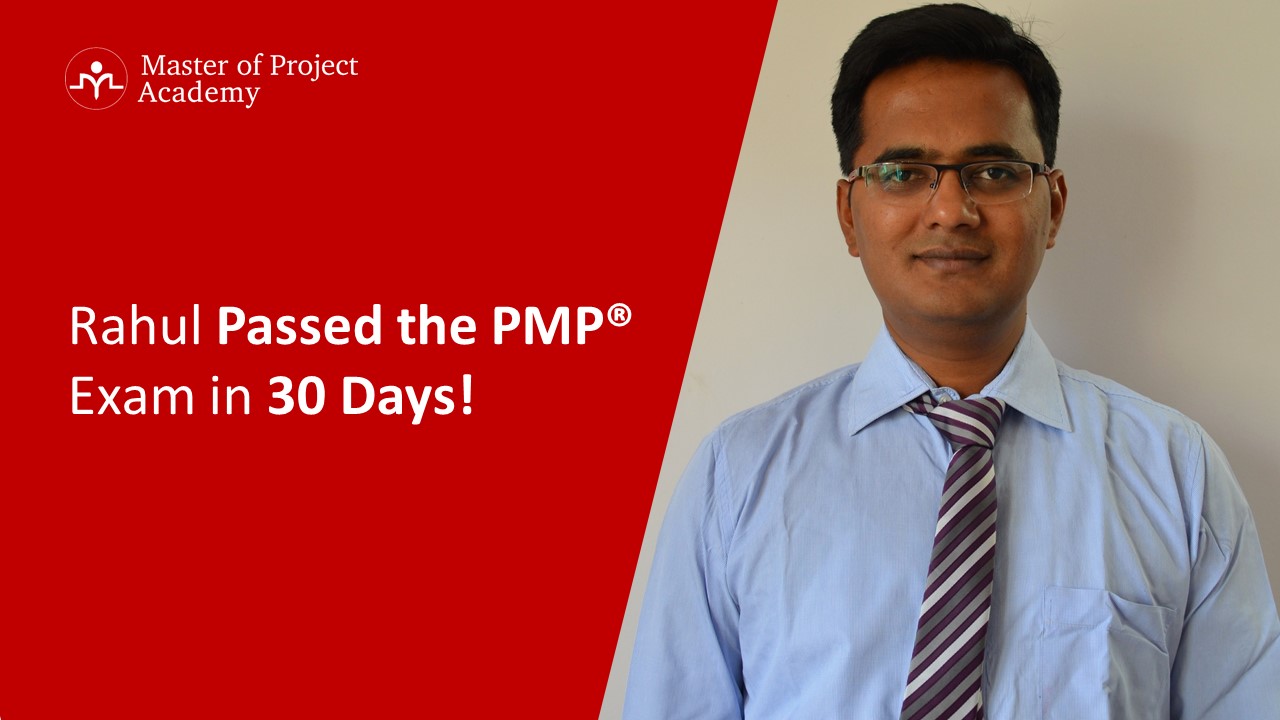 Rahul passed the PMP Exam in 30 days! Click here to read his story.
When does the course start and finish?
Master of Project Academy courses are designed to be flexible and affordable, so you can learn how you choose.
You can begin the course from the moment you enroll. Get instant access to all the lectures, videos and materials and train for certification at your own pace.
There's no deadline to complete the course – you can watch and re­‐watch as many times as you like, giving yourself the best chance at passing your certification exam at the first attempt.
What if I am unhappy with the course?
All our courses come with a full 30-­day guarantee for your protection. Our overall refund rate is less than 1% from 50,000+ students who have used our course to train for PMP certification.
But if for any reason you decide to cancel, just email [email protected] within 30 days of enrollment, and we'll refund your payment in full. You should not have passed 10% off the course progress to get a full refund.
How long can I access the course for?
How does lifetime access sound? Lifetime access is exactly that – you will never lose access and will receive free course content updates forever.
Who teaches the course?
Your expert instructor is Master of Project Academy Founder & CEO Resit Gulec, who has over a decade of IT project management experience and has taught the subject to thousands of students over 5 years.
Any further questions?
We're happy to answer them! Please visit our FAQ page for more details or email [email protected].
-What is PMP certification?
PMP certification is…
PMP (Project Manager Professional) is the world's most reputable project management title, as offered by the Project Management Institute (PMI).
Evidence of your commitment to a project management career. It demonstrates your fundamental knowledge of senior project management and its associated processes to potential employers.
-What are the PMP certification requirements?
There are two fundamental PMP certification requirements.
1-) If you have a four-year degree or equivalent diploma, you should have 3+ years of project experience. If you do not have four-year degree, you should have 5+ years of project experience.
2-) You must have attended a 35 contact hours project management education. (This PMP certification training qualifies for this requirement.)
-Why do I need PMP certification?
PMP is the abbreviation of Project Management Professional and it is the world's most reputable project management title. The PMP certification is awarded to professionals who pass an exam consisting of 200 questions.
There are more than one million certified PMPs around the world and counting. Currently, successful corporate organizations (especially fortune 500 companies) look for project management candidates with a PMP certification. This achievement demonstrates that the professional has both theoretical knowledge and practical experience.
Also, fun fact – a survey conducted by Indeed, states that certified PMPs earn on average 20% more than their uncertified peers.
Learn more about the value of PMP certificate.
-What is the PMP certification cost?
PMP certification exam fee is $405 for PMI-members and $555 for non-members. Cost of PMI membership is $150 and gives one-year access to PMI documents including PMBOK. Therefore, being a PMI member and applying for PMP certification exam is recommended since total cost you will pay for PMP certification exam will not change.
Note that, this is only the exam fee. In order to sit for the PMP exam, you must have attended an 35 contact hours PMP training as well. PMP training cost is not included above.
Recommended way is enrolling in a PMP online training. This does not provide cost advantage only. You will have the flexibility to attend in PMP online courses based on your schedule, availability and you will be able to revisit the lectures as you wish.
Learn more about PMP certification cost.
-How should I choose my PMP training program?
In order to take the PMP exam, you must earn at least 35 contact project management education hours.
There are two options for attending a PMP training. You can attend trainings in the physical classroom or online PMP courses. If you choose to get your training in the classroom, this is an intensive 4-5 day process that allows you to learn a huge amount of PMP course material in a short amount of time.
We feel online PMP trainings are more convenient for the majority of PMP candidates. Students are able to follow the online PMP course lectures on their own time and can fit the PMP online training into their own schedule. If a student doesn't fully understand a topic, they have full access to all online PMP training materials and can learn at their own pace.
Our online PMP training is also available as a resource and we're readily available to answer students' questions promptly. Additionally, online PMP course programs are around 3 times more affordable than the regular PMP classroom courses.
Be careful when choosing your online PMP training provider. Some project management courses are pretty basic so be sure to do your research and ensure that online PMP course program you will choose is up to standard and cover the PMBOK content fully.
-How should I study for PMP certification exam?
After helping more than 50,000 worldwide professionals, we prepared a 7-step PMP study plan. If you follow these steps, you will double your chances of passing the PMP exam with flying colors, on your first attempt.
1-) Determine the Target Date You Will Take PMP Exam. This will help you prioritize and arrange the lesson plan to ensure you're ready come exam day.
2-) Develop a Study Schedule After You Set Your PMP Exam Date, plan which sections you will complete and when. Be sure to allow time for days off, holidays etc.
3-) Take Diligent Notes While You Study. The PMP certification process is a long journey. You keep coming back to these notes – they'll be essential in retaining information throughout the study process.
4-) Practice, practice, practice:There are so many online PMP practice questions available to you via online, peer study groups, and training provider resources – like Master of Project Academy.
5-) Spend Time Reviewing Your Incorrect Answers. If you find a particular section difficult, make sure you revisit the PMP material and and retake the quizzes when necessary.
6-) Go through your PMP study notes frequently. The PMP certification journey is a long one – so every two weeks, take an hour to go through the section notes you've already taken. This will help you retain the PMP exam material better.
7-Take the exam and earn your PMP certification! If you followed steps 1-6, you should be ready to ace the PMP exam! Be sure to get enough sleep before PMP exam day, and be confident. You got this!
You can read more detailed guidelines about each step in our PMP study plan post.
-What is the passing score for PMP certification exam?
There are 200 multiple questions in PMP certification exam. 25 of these questions are for quality control purposes and unscored. Passing score is 61% or 107 correct answers out of 175 scored questions. Learn more about PMP exam structure.
-How can I apply for the PMP certification exam?
There are three methods for applying for the PMP certification. A PMP online application, a paper application, or through your training provider. The fastest and recommended way to apply for PMP certification is online.
It's easy, Visit pmi.org and create your profile. After you've created your profile, you'll see the certifications required by PMI, the Project Management Institute to apply. Select the PMP certification and follow their instructions. They'll ask you to share education details, work experience, project experience, project management education details etc.
After you submit your PMP application online, PMI will review and within five business days, they'll come back to you with three possible outcomes:
1-) They'll confirm you're eligible to take the PMP exam and the next step is simply to schedule the exam.

2-) PMI might ask you to provide additional documents regarding your work experience or education background. PMI audits online PMP applications randomly and may ask for these documents. Don't take it personally, it's just a part of their process.

Be sure to send required documents to PMI via mail within 90 days.

Upon review, PMI will then approve you've passed the audit.

3-) If your PMP online application is rejected, PMI will give you more information on why it was denied and then you can plan to reapply in the future.
-How can I access sample PMP exam questions?
Most PMP training organizations offer dozens of sample questions. Here at Master of Project Academy, we offer more than 1,000 PMP exam questions. By enrolling in the online PMP training course, you'll have full access to these. The questions are prepared by project management experts who know the PMBOK content and the exam like the back of their hand.
Also, if you didn't know – the PMI uses a randomized PMP question pool to distribute 200 exam questions to each candidate. Once they select the questions, the candidate has four hours to complete the PMP exam.
See: Sample PMP Exam Questions.
-Can I study for the PMP exam on my own?
Absolutely! You can get ready for PMP exam today if you wanted. You can enroll in an online PMP training and you can follow the 7 steps we outlined in our PMP study plan post. After you prepared your PMP study plan and with the help of our online PMP course, you can pass the PMP exam in your first attempt!
-Can I take the pmp exam online?
As of now, the only method for taking the PMP exam is through a prometric test center. As soon as your online PMP application is approved by PMI, you can then schedule to take your PMP exam at an approved location near you. We recommend you schedule your exam at least month in advance.
-Want to learn more about PMP certification?
Enroll in our free PMP training overview course.